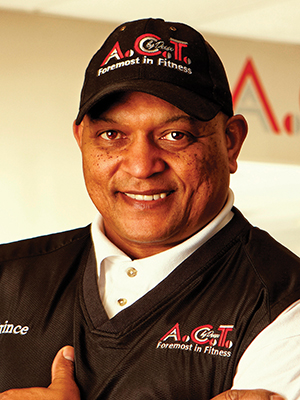 Prince Deese
Prince Deese, an All American Wrestler, a Hall of Fame Football Player, and a State Champion Body Builder, is a certified personal trainer and strength conditioning specialist. Prince Deese and Gina Deese own A.C.T. by Deese, a Fitness & Training Center in Greensboro, NC.
How many times have you seen an advertisement of a product swearing it will help you burn more calories—only to find out that it was a dud?
In their busy lives, people find it very challenging to take time to exercise. But do you know that you can actually burn up to 200 calories per day in the time it takes you to watch an episode of a 30-minute television program?
Walk/run the stairs. Make a habit of climbing stairs instead of taking the elevator. Another option is to park away from the front door of a store and walk loops around the outside of the premises before you go inside.
But if you want to get a killer work out, take out 20-30 minutes and increase the pace of your walk to just before a running trot. Incorporate a flight of stairs or two and BOOM! You can lose up to 275 calories in just half an hour—and you'll be able to tone your backside.
Biking. Lots of people love biking; it feels just like flying! Also, just 20 minutes of pedaling can burn up 200 calories. If the weather is nice and pleasant outside, ditch your car and wheel in style.
If that's not possible, go for a leisurely nighttime ride after dinner so that you can burn some calories until it's time for bed.
Walking. As an alternative to biking, walk. In fact, walk everywhere … to the shopping mall, grocery store, church, the museum, parks, hills, you name it. By adding a cardio pump playlist to your iPhone music library, you can add a bounce to your step and improve your calorie-burning performance.
Dancing. Exercising can be fun. The fact that Zumba-Gold and Carmen Electra's full-body dance routines actually work are great examples. If you want to get your groove on, put on some heart-pumping music and dance away for just for 20-30 minutes.
If you want some real fun, invite your friends to join you in a few steps. The more your heart rate goes up, the more calories you'll burn.
Cleaning. Nobody likes to clean, but do you know how many calories we burn just by sweeping, mopping, vacuuming, and doing the dishes? Just an afternoon of our daily household chores can burn up calories equivalent to 60 minutes of kickboxing class. The cherry on top is that you end up with a spotless home!
Try all five of these activities, one for every weekday, and you will be proud of the results in just a few months.
Remember, always consult with your physician before beginning a fitness program. For further assistance in planning a routine that can help you to burn calories, contact ACT by Deese for a fitness assessment and consultation at 336-617-5304.