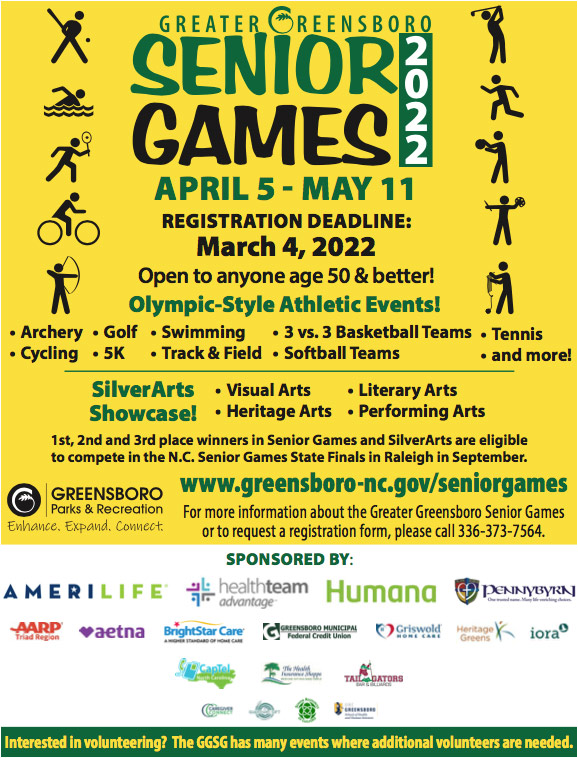 The 2022 Greater Greensboro Senior Games returns this year with two events:
April 5 – May 6:

May 10-11:

Athletic Competition

SilverArts Competition
Open to all Guilford County residents 50 years of age and older. A participant must be a North Carolina resident for a minimum of three consecutive months of the year. Age on December 31, 2022 will determine the age category in which the athlete will compete. In athletics, participants will compete against others of their own sex and age as follows: 50-54, 55-59, 60-64, etc. In doubles, teams will be placed in age categories by the age of the youngest player.
Events
The events promise plenty of fitness, fun, and camaraderie. The diverse events in April include a wide variety of athletic events:  cycling, bowling (singles), golf, 5k run, swimming, team sports (basketball), billiards, pickleball, tennis, and much more. In May, the focus will be on the arts:  performing, literary, visual arts, and more.
Awards
Gold, Silver, and Bronze medals will be awarded to the top three finalists in each age/sex category in each athletic event except the Fun Walk. Participant ribbons will be awarded in the Fun Walk. Ribbons will be awarded to SilverArts winners at the SilverArts Showcase.
Participants must register by Friday, March 4th at 5 p.m.
Registration
There are two ways to register for these events:
Print copies of the attached Senior Games Registration Form, SilverArts Registration Form, and the Waiver and Fees pages (required for all participants.) Or, pick up registration forms at Smith and Trotter Active Adult Centers. 2021 participants will receive forms in the mail.
Register and pay online here. If you have an account from 2021, use the same email and password. Please note: if you can't remember one or both, click "Forgot username" or "Forgot password." Do not create a new account.
All forms and payment must be received by FRIDAY, MARCH 4 at 5 pm. Literary pieces must also be submitted by March 4 at 5 pm. Incomplete forms, missing payments, or missing literary works will not be accepted.
Interested in volunteering?
Print and complete the Volunteer Form and return it jennifer.matkins@greensboro-nc.gov, or the Senior Games office.
For more information about Senior Games, please call Jennie Matkins at 336-373-7566 or Susan Farrelly at 336-373-7571.
Access the 2022 NC Senior Games Rules Book.
About
The mission of the Greater Greensboro Senior Games is to promote healthy lifestyles — both mentally and physically — by encouraging seniors to practice and participate in their chosen events throughout the year. There are a variety of events available, so there is something for everyone.