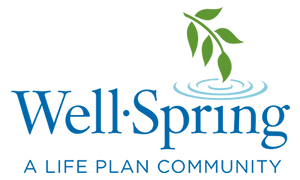 The road less traveled often leads to where you ultimately belong. Such is the case with Misti Ridenour, Executive Director at Well•Spring, a Life Plan Community in Greensboro. The life-long learner started her journey at Well•Spring as a college student who needed a job while pursuing her Master's degree at UNC-Greensboro. Ridenour took every opportunity to learn and soak up knowledge, even during daily lunches with the Director of Nursing. She held several different positions at Well•Spring and obtained her nursing home administrator's license. When the position opened up, she interviewed for and was hired as the Director of Health Services.
The daughter of a Methodist minister, as a child Ridenour went on many visits with older adults in the community. "I thought my grandparents were about the coolest people there were," Ridenour explained. "I just liked to talk with them, learn from them and hear their stories. I felt a kinship at a young age, and knew I wanted to work with older adults."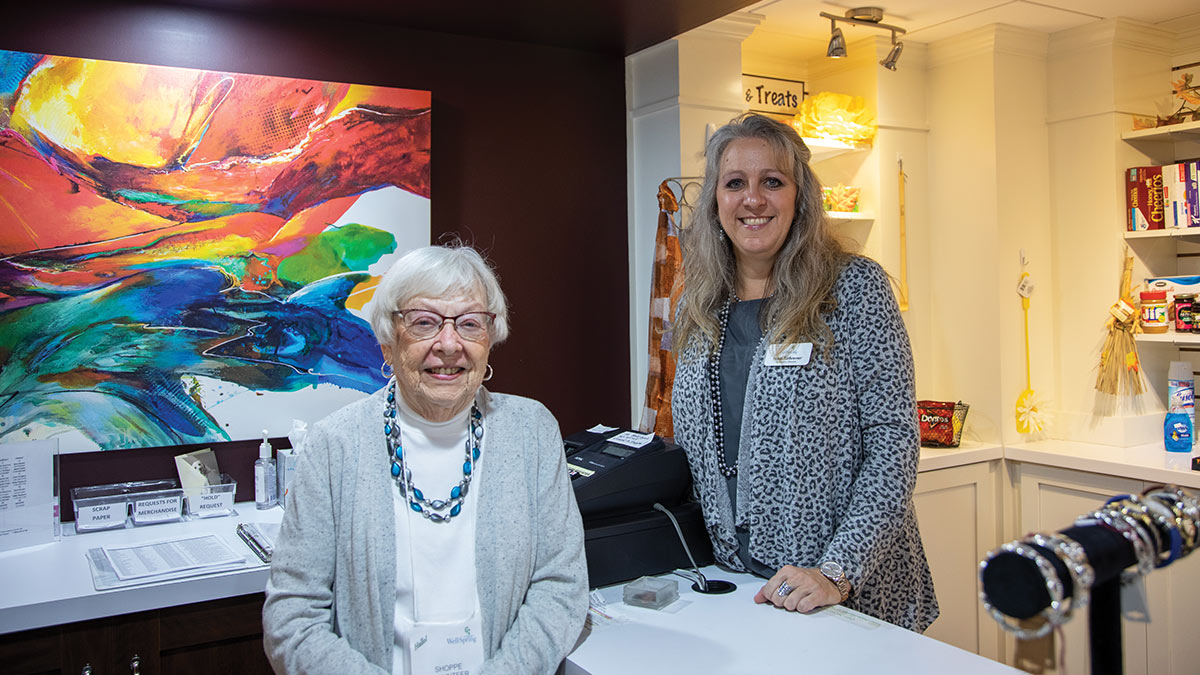 Misti Ridenour in the Well•Spring boutique with resident volunteer Glenna Guarino who has lived at Well•Spring for over 3 years.
Philosophy.  "Well•Spring's mission is simple," said Ridenour. "It is to exceed the needs of older adults."
"Aging and older adults should continue to be active and involved as long as they are able and have that interest. I've embraced the concept of 'person-centered care,' which is the philosophy that everybody's different with different wants and needs," explained Ridenour. "We have to know the individual in order to provide the best care for them, which to some extent is hard to do, but it's very important. It is holistic, dealing with the physical, but also with the cognitive, spiritual, emotional, and social."
"There's a real sense for our residents that this is their home and they belong here," said Ridenour. "They have a say in what's going to happen."
Corporate Culture.  Ridenour believes that happy employees who are invested in what they're doing make the best environment for residents. "There's a lot of respect for every individual, because it takes all of us." Employee programs are in place such as educational scholarship and financial assistance programs. Compensation is constantly evaluated, including reviewing cost of living increases and merit raises. And little things make a difference. A well-loved coffee bus comes to the campus every month. "It's just a great, little perk that everyone likes, along with a once-a-year steak lunch for employees."
Excellent Medical Care.  A long relationship exists between Well•Spring and Cone Health System, who provides a medical director, nurse practitioner and other staff through Piedmont Senior Care. The new Cone Health Medical Center virtually adjacent to Well•Spring is a major convenience for residents and the community.
Forward Looking Services.  Plans are in motion for upgrades to IT infrastructure, changes to amenities like the fitness center, adding hybrid housing options and more. "We're always looking at what people are interested in. Are there new services; new programs? Things we need to look at to meet interests of potential residents?" said Ridenour. "We always want to be cutting edge. We stay engaged with universities. We want to know the latest research. We look at what kind of services we can offer in the future."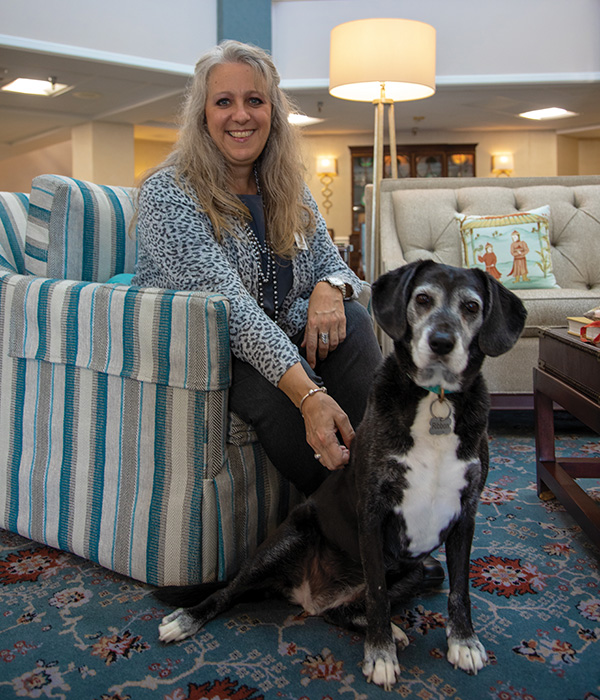 Misti Ridenour's faithful companion, Ribbon, is a popular visitor around the Well•Spring campus.
When she is not at Well•Spring, Ridenour serves on Adult Care Home Community Advisory Committees. To relax, she spends time with her dog, Ribbon, and keeps an eye on her pet chickens, who enjoy the good life in the luxury chicken coop she built during Covid.
No two days are the same at Well•Spring, and after a busy day meeting with staff, employees and checking in with residents, Ridenour is the last one to leave, and that's fine with her. She has done a good day's work and will get up tomorrow, and do it all over again for the residents of Well•Spring.