By Jessie Ammons
If you want the convenience and freedom of living independently and are ready to give up responsibilities like household cleaning, yard maintenance, and even meal preparation, with the added bonus of multiple social engagements right at your door, then an independent living community is for you.
Independent living communities offer the peace of mind of 24-hour security, since most are fully secured by staff members at all times of day. They offer beautiful private apartments and some have cottage homes available. There are lovely meeting areas throughout the communities to meet up with friends or spend some quiet time looking at the gorgeous views. Typically independent living communities partner with a home care agency to offer assistance with daily living activities. Independent Living is the perfect option for healthy, aging retirees and if healthcare services become necessary, supportive care services are available. Don't worry about Fido because most allow you to bring your pets for an additional fee.
While many independent living communities include a meal plan that allows you a dollar amount that you can use each month for quality meals served in a restaurant-style shared dining room, they allow the flexibility for self prepared meals. Amenities options can include fitness classes, libraries, computer rooms, laundry services, wellness centers, and even sports courts and swimming pools.
An enriching aspect of moving to an independent living community is the social programming offered; a typical community's lineup may include everything from organized regular activities, such as game nights or a book club, to shopping trips and group outings, to museums and theaters. Many independent living community residents have their own car, maintain active lifestyles, and sustain their connections to the community at large.
Pricing varies by community, but is often based on a monthly rental.
Retiring to an independent living community in the Triangle can be a difficult decision, simply because of its many diverse and excellent options. To give you an idea of how multifaceted independent living communities can be, here are a few features to be found locally.
Flexible Meals
Founded with a dedication to bringing the hospitality of a first-rate hotel to senior living, Bartlett Reserve's resort quality applies to their dining, too. Rather than set meal times, residents enjoy a freestyle dining program, which feels like a personal restaurant. From 7 a.m. to 7 p.m., made from scratch meals are cooked to order at whatever time residents arrive and prefer. Typical breakfast menus include a customizable bowl of oatmeal or steak-n-eggs; and lunches and dinners are seasonally inspired, from a fried oyster salad to comforting pork pot roast.
Community Cinema
Raleigh's newest community, Capital Oaks, is an all-inclusive facility with 1-, 2- and 3-bedroom apartments and an on-site spa, pharmacy and goldfish pond, among other services. Residents have access to a 150-seat theatre, used for live performances and movie screenings alike. Attend a scheduled weekly movie night or tailgate party or reserve the theatre for yourself for reunions and other events. The theatre is open to the public, too, which means seeing a movie with loved ones can become a regular part of your lifestyle.
Holistic Wellness
While fresh air enthusiasts appreciate the pond and walking trails at Cambridge Village of Apex, their indoor fitness facilities shouldn't be missed, either. The community prioritizes complete wellbeing, with customized wellness programs that place equal emphasis on social and physical. Their wellness center was designed in partnership with REX Wellness Center in Cary, to appeal to residents and outside community members alike. Today, some 40% of the wellness center's members are non-residents, which is perfect for those looking to meet new friends in group exercise classes, or to invite non-resident friends to join. Group fitness classes and wellness programming are all led by certified health professionals.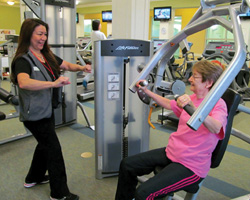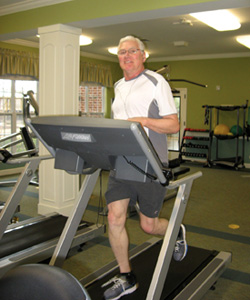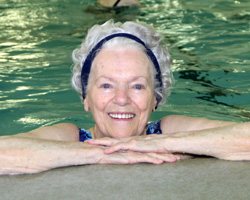 Cambridge Village of Apex prioritizes wellbeing with an equal emphasis on social and physical programs.
Cambridge Village of Apex
951 S. Hughes St., Apex
919-363-2080 or cambridgevillageofapex.com
Time for Passion Projects
Preston Pointe in Morrisville may have the most engaged residents in town.
Dorathy Chance maintains ties to the larger community, while enjoying life at Preston Pointe.
Dorathy Chance, an admitted "people person" moved to Preston Pointe in January and as of mid September, hasn't had time to unpack yet. She loves the fascinating people she's met and new friends she's made since moving in and while she regrets missing most of the activities, trips, and events that are always happening at Preston Pointe, she just doesn't have time to enjoy them. Dorathy is very involved in the community. After serving 20 years of a 3–year appointment ("the pastor just kept re-appointing me") to the Administrative Board of Edenton Street United Methodist Church (203 years old this year) she retired from that post to give her more time to pursue other interests. Three days a week she continues to serve as the church's librarian at Edenton Street UMC. Then she switches hats and serves as the Executive Assistant of the non-profit AC and Lillian D. Bulla Foundation which primarily provides educational loans to worthy boys and girls who want to pursue higher education after high school. AC Bulla was the County Health Director for many years and loved children. He and his wife had no children of their own so they wanted to find a way to help area children after their death. The Bulla Foundation was established and the proceeds from the endowment are used for capital improvements to Edenton Street Church as well as to fund loans to college students. Dorathy keeps the books on all the loans, keeps up with the students and helps administer the business of the foundation.
Dorathy chose Preston Pointe because as she puts it "it's nice to know you're home and everything is provided". As an example, breakfast and dinner are provided in the dining room and while she can manage her diet to accommodate a diabetic condition, she likes the fact that the chef knows her and gives her special attention. Dorathy looks forward to the day when she has more free time to enjoy more of the activities at Preston Pointe, but for now she enjoys life just as it is….busy as ever.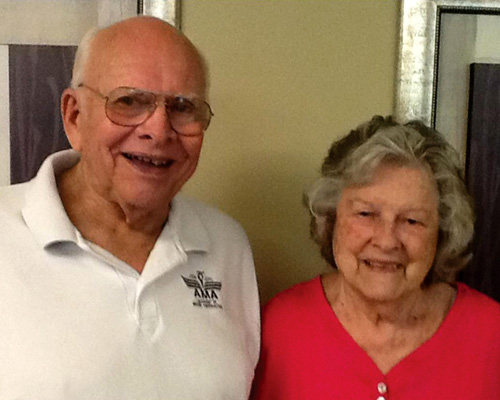 Doug and Christine Holland
Doug Holland is another example of the busy lifestyle Preston Pointe residents maintain. Doug owned CD Holland and Company CPA firm for 35 years, until he sold it about 6 years ago to his lifelong friends at AT Allen & Company, who had operated their CPA firm "just down the hall". In fact, Doug says, "my first job was working for AT Allen Company until I branched out on my own nearly four decades ago". When I decided I wanted to slow down we worked out a sale agreement for them to buy me out while I continued to go into the office and handle select clients for the next 6 years. More recently, I've scaled back even more and I just go into the office and consult on an as needed basis.
Doug and his wife came to Preston Pointe in a round-about way. According to Doug, "my daughter, who has her own securities firm, and I were helping a mutual client a few years ago find a better living situation, and so they canvassed many of the Independent Living Communities in the Triangle looking for a place for their client to move. They toured Preston Pointe and immediately liked what they saw. Ultimately, the client chose to move to a different community, but just over two years ago when Doug and Christine decided it was time to move, Doug remembered how much he liked Preston Pointe and they quickly made the decision to move. They really like the fact that there is something to do all the time. The people are nice and the food is "most adequate". Doug stays on the move as he is the chaplain for the Optimists Club, which meets every Monday at noon at the Golden Corral. He's also the assistant treasurer and, as the second longest serving member (since 1962), he rarely misses a meeting. He also likes the fact that, living at Preston Pointe means they don't really have to drive anywhere. There's always a group going to breakfast, or to the store, or to one of the planned area activities, and transportation is provided by Preston Pointe. But there's lots to do without ever leaving the community, from the gorgeous garden behind the main building, to movies every afternoon in the theatre, to a variety of activities and functions. Doug and Christine enjoy the activities and enjoy doing them with the nice people that live at Preston Pointe.
Preston Pointe
1995 NW Cary Pkwy., Morrisville
888-308-8820 or prestonpointe.com
Room for Everyone
Colonial eighteenth century-inspired architecture, abundant common spaces, and both apartment and cottage living options make Waltonwood Cary Parkway a versatile place to call home. In fact, one couple, the Griffins, came to visit Mr. Griffin's parents, Tom and Britt Griffin, after they moved to Waltonwood from Kinston last spring. On another visit to her in-laws, the younger Mrs. Griffin brought her parents, Randall and Freda Baker, along, and they loved Waltonwood so much, they moved in the next summer. The family affair continued when another in-law (the younger Mrs. Griffin's sister's mother-in-law), Louise Powell, visited the Bakers alongside their shared grandchildren. Louise, who was also taken with the community, moved to Waltonwood last fall. Now, everybody is familiar and the five retirees, related through marriages, often spend time together and support one another. While Tom and Randall are in Memory Care, Britt, Freda and Louise are in independent living. Everyone is able to live in the same community and have their needs met.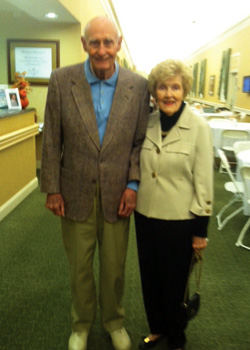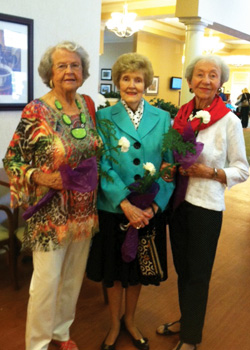 It's a family affair at Waltonwood for the Griffins, the Bakers, and Powell.
Waltonwood Cary Parkway
750 SE Cary Pkwy., Cary
919-651-3964 or waltonwood.com
The Right Choice for You
Once you've found the Triangle independent living community for you, be sure to closely evaluate your amenity options. Be honest about the lifestyle choices you intend to make. All-inclusive packages can be excellent for immersion in your new community without worry. Paying per service can allow you to maintain a flexible routine. Whatever your decision, moving to an independent living community is the first step in actively embracing your next phase of life.