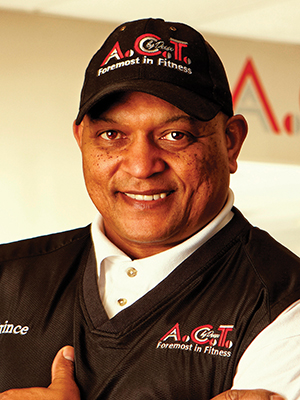 Prince Deese
Prince Deese, an All American Wrestler, a Hall of Fame Football Player, and a State Champion Body Builder, is a certified personal trainer and strength conditioning specialist. Prince Deese and Gina Deese own A.C.T. by Deese, a Fitness & Training Center in Greensboro, NC.
The New Year is here and it is time to think about resolutions and goals for the days ahead. It is time to plan your fitness regimen and put your daily routine in order. Routine and regularity are important, so it is essential that you set aside a time each day for a regular exercise routine that will help to keep you active and help you to be prepared for the challenges that the days ahead will bring. A progressive program is the best, one that is designed to increase with time so that it can gradually build the body's strength and endurance. Start slow and grow. Don't over-shoot goals. Maintain a solid and safe balance in your work-out.
Most important before you begin any exercise, meet with your family physician or medical counselor. They can discuss a healthy diet and keep check of any medical conditions that may improve when you begin a fitness plan and life-style change.
After you meet with the doctor, personal trainers are a nice way to introduce and create the proper exercise program that will keep you safe and prevent injury. Certified fitness trainers can help you to build a foundation of good health, strength, endurance and a path to achieving your individual health goals.