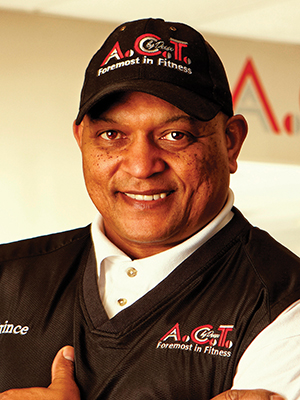 Prince Deese
Prince Deese, an All American Wrestler, a Hall of Fame Football Player, and a State Champion Body Builder, is a certified personal trainer and strength conditioning specialist. Prince Deese and Gina Deese own A.C.T. by Deese, a Fitness & Training Center in Greensboro, NC. Contact him at 336-617-5304.
After almost several months of strict lockdown and the number of newly reported cases of Covid-19 declining in some areas but still rising in others, there are a lot of positive updates from around the world as people begin to return to life. However, for people in the U.S. and various other countries for that matter, the new normal may look quite different than the prior Covid daily living practices we once knew.
Yes, social distancing is advised as a strong defense against the virus for now but exercise has been and will always be an important aspect to strengthen immunity, strengthen your lungs, and strengthen your body against multiple colds, flus, and viruses – as well as deterring heart disease, diabetes, and multiple other aging challenges. Let us not forget that not only does exercise keep you physically fit, but it improves mental health, boosts cognitive function, reduces the risks of falls, and prevents multiple age-related health complications including joint aches and muscle pains. Many well documented studies are available to confirm the benefits of a good exercise regimen.
The moral of this story is to remember while in isolation or returning from the world crisis to daily life, it is important that you stay active and keep moving. There are many options like walking, virtual exercise programs, or privately meeting your trainer one on one outdoors or in a private setting. Again, no matter where you are or what activity you do, respect the health and safety guidelines, remain physically strong by exercise, stay positive, and continue the journey to maintain quality of life and independence.
Since exercise promotes the production of endorphins, dopamine, and serotonin, aka the 'happy hormones,' it automatically increases your feel-good factor. This, in turn, serves as an instant mood booster and helps alleviate stress and anxiety of being in isolation for so long.
No matter how unfavorable a situation might seem, humans have an innate ability to improvise and adapt.
Here are some tips for improving your overall wellbeing:
Build a healthy routine: If your daily routine has been disturbed, it is time to restore it now… or build a new one.
Sit less, move more: Maintaining an active lifestyle even in a limited space is not that hard.
Make household tasks more purposeful: Exercising is not a chore if you make your chores an exercise.
The novel coronavirus took the world by surprise, and it looks like it is here to stay for a while. But the good news is that soon we will be emerging back into our routines and our best course of action is to take the precautionary measures and follow the social distancing advisory as much as we can. More importantly, maintain healthy eating habits, sleep well, and above all, exercise regularly. Stay positive, stay active, and be safe!