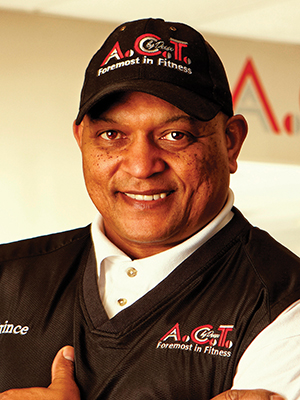 Prince Deese
Prince Deese, an All American Wrestler, a Hall of Fame Football Player, and a State Champion Body Builder, is a certified personal trainer and strength conditioning specialist. Prince Deese and Gina Deese own A.C.T. by Deese, a Fitness & Training Center in Greensboro, NC. Contact him at 336-617-5304.
The significance of "21" means many things to many people. "21" has been written to represent selflessness which benefits relationships in many positive ways. A "winning hand" some would say. It has been noted biblically as a symbol of "perfection and maturity" and noted in other writing as, "a promise of a life of fulfillment, triumph and victory."
All are welcoming thoughts as we reflect on 2021 and "21" ways to improve our health for our resolution solution to betterment. We believe the following suggestions can get you started on your healthy path and off to a good year.
Wear your Mask in public
Wash your hands frequently
Practice social distancing at least 6 feet apart
Schedule your physical and preventative visits
Consult with your physician before beginning any new fitness program
Make a schedule to include 21 minutes of cardio each day (at least)
Discover 21 new healthy choice snacks
Increase your water drinking to 6-8 bottles per day
Plan 21 healthy meals or new healthy recipes
Get involved, volunteer, start a new job or begin a new project to challenge your mind
Read books or visit the library (Books on tape are fun.)
Clean out a closet or drawer and organize your space
Re-arrange your furniture for a new perspective
Begin a weekly Zoom chat with friends for fellowship
Review what is in your heart that makes you happy
Serve your fellow friends and offer your time if they need help
Take care of your body and get the appropriate amount of sleep
Meditate and pray daily
Smile in all situations, be full of understanding, inspiration, and encouragement
Exercise
EXERCISE, EXERCISE (exercise is worth two thoughts, because it is critical to a healthy life!)
We know exercise can benefit weight management, lower blood pressure, improve joint pain and fatigue. Exercise helps with cognition and emotional well being. It may even help to reduce medications. Exercise can ward off some diseases and can increase life span. We know we have the choice to make the world a better place, and it begins with our self-responsibility. Choose to make exercises your priority for 2021, even if you are just trying for the first time for 21 days, and see how it can improve your quality of life. You can even share this good secret with your friends. Work out partners make exercise fun and hold you accountable.
In summary, the focus of 2021 should be on your health, your body, and your well being.