Well•Spring Solutions launches 'THRIVE!'
innovative – and free – caregiver programming
made possible through CARES Act grant funding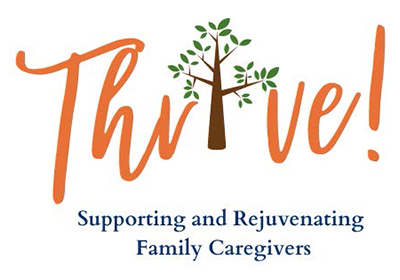 GREENSBORO, N.C. – Triad families weighed down by caring for a senior loved one during COVID can now take part in innovative programming – free to family caregivers of an adult loved one with chronic illness –designed to not only inform participants about caregiving strategies but also provide much-needed respite for themselves through rejuvenating activities.
"THRIVE!" is a unique, multi-pronged approach to supporting and rejuvenating family caregivers in the practical skills of caring for a loved one, as well as providing valuable opportunities for caring for themselves, too. Brain-healthy groceries, 4G-enabled tablets, yoga equipment, books and painting supplies will be made available through the program to family caregivers in Guilford and Rockingham counties.
"COVID-19 has created a worst-case scenario for family caregivers, especially those caring for a loved one with cognitive challenges," said Jodi Kolada, Director of Business and Caregiver Outreach at Well-Spring Solutions, a Greensboro nonprofit that offers a full slate of home- and community-based care options, particularly for people with memory loss and dementia. "For many of them, it is a perfect storm of stress, chaos and a virus that dictates our every move. To make matters worse, many of the care services typically available have been limited or disappeared altogether. The pandemic has magnified challenges for caregivers such as social isolation, lack of access or comfort with technology, financial hardships, food insecurity, loss of routines and more. With our CARES Act grant funding, THRIVE! will address these challenges head-on in new and creative ways with a combination of respite services, access to needed supplies and equipment and experiential-type caregiver education trainings."
Specifically, the multi-modal structure of THRIVE! will include:
Enhancing caregiver access and comfort through technology. This will include temporarily loaning 4G-enabled tablets to family caregivers so they can better engage frail older adults with cognitive impairment and, in turn, give themselves a break;
Providing the latest best practices around caregiving through virtual coursework – both live and pre-recorded. This will include talks, presentations and discussions;
Fostering knowledge and socialization through a Book Club centered around the exploration of caring for a loved one with memory loss and dementia or simply experiencing the effects of aging. Participants can sign up to read and explore one of four different, highly recommended works of their choosing, touching on topics such as learning to create moments of joy and how to lessen the isolation of caregiving. The book chosen by the participant will be provided at no charge;
Relaxing and restorative virtual activities to help caregivers care for themselves, as well, both physically and mentally. Activities will include painting and yoga demonstration classes – and all supplies and equipment will be provided free to participants;
And tackling financial hardship and food insecurity through cooking demonstrations led by an expert nutritionist that include $75 worth of brain-healthy groceries.
"We are really excited about the THRIVE! program," Kolada said. "It offers a full complement of the services and support mechanisms that families desperately need when faced with the many challenges and obstacles of caring for a loved one – especially during the pandemic."
Pre-registration will be required for all activities – and registration is now open for the Book Club. To register, learn more about THRIVE! and sign up to receive additional information as it becomes available, please visit www.Well-SpringSolutions.org/thrive.
About Well•Spring Solutions
Well•Spring Solutions is part of the nonprofit The Well•Spring Group, based in Greensboro, and the "sister" organization of Well•Spring, A Life Plan Community. Through Well•Spring Solutions, we offer a full complement of home and community-based services, specializing in programs that support those with dementia and their families. In addition, we offer caregiver education classes and support groups for caregivers. For more information, please visit www.well-springsolutions.org.