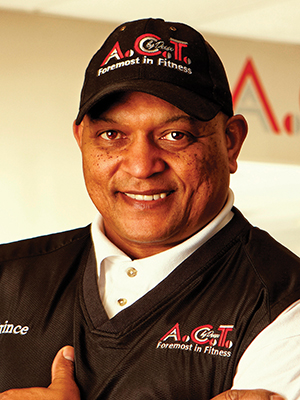 Prince Deese
Prince Deese, an All American Wrestler, a Hall of Fame Football Player, and a State Champion Body Builder, is a certified personal trainer and strength conditioning specialist. Prince Deese and Gina Deese own A.C.T. by Deese, a Fitness & Training Center in Greensboro, NC. Contact him at 336-617-5304.
Depression, stress, or anxiety can stagger your life. Regardless of what causes them, they can make life seem dull and strip you of your motivation. The Covid-19 pandemic restricted many people to their homes, and an environment of uncertainty and fear prevailed globally, spreading the conditions of depression among people of all ages. Other than the pandemic, there are other life situations as well that cause anxiety and stress, like a drastic change of life after retirement, heavy pressure at work or other life troubles.
Whatever the reason for your depression, you can always reduce anxiety with fitness. Being "in shape" can not only keep your physical health in optimal condition but render strong mental health as well.
When you are fit and healthy, your body produces endorphins. Endorphins are natural brain chemicals that make you feel good and provide you with an enhanced sense of well-being helping fight off depression, anxiety, and stress and helps keep them from affecting you. Exercise and fitness offer other psychological benefits including mood elevation and a boost in brain functionality.
Fitness triggers a chain beneficial lifestyle choices. When you feel confident about your appearance, you are less reluctant to approach others. Merely smiling at someone passing by or greeting people as you walk around increases your chances of getting a more socially stable life. Small interactions, on their own, can uplift your mood and make you feel good about yourself.
The journey towards achieving fitness requires you set goals that are small and daily ones, as well as big ones that require a longer time to achieve.
Setting goals for yourself improves your will power and accomplishing them boost your self-confidence. Getting and staying fit is a coping strategy that is positive and is naturally more uplifting than opting for trying to feel better through bad habits like oversleeping and self-medicating. When you begin to get fit you feel more in control of your life and steer it with authority.
Fitness can be achieved and maintained through healthy eating and exercise. Physical activities and sports also help reduce anxiety and can be part of getting fit. You can schedule and structure routine workouts or incorporate your daily life with activities that engage your muscles and get your heart pumping. It is preferable to engage in activities that you enjoy. Taking on the challenging task to getting fit and sustaining that fitness can be your beginning to stress reduction. If not certain where to begin, speak to your doctor first and seek a personal trainer next to help you on your wellness journey.