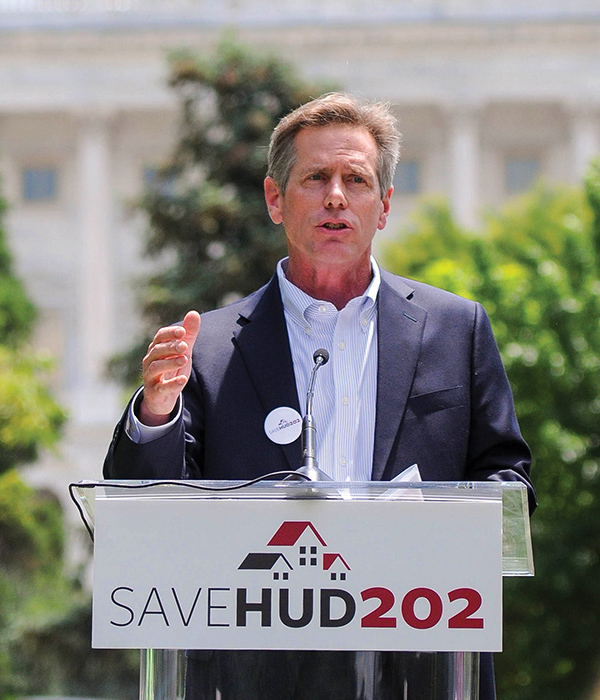 Navigating the senior housing landscape during the Covid-19 pandemic is challenging. Retirement Resource Guide recently had a conversation with senior industry expert Steve Fleming about what we can expect now and in the immediate future.
"We are living in a day of uncertainty" says Steve Fleming, of Well•Spring, a Life Plan Community, in Greensboro, "…but we have to live our lives."
Fleming's assessment is not an invitation to toss caution to the wind. To the contrary, it comes with a great deal of hands-on experience and expertise in the senior housing industry.
With Covid-19 taking… and holding… center stage in everyone's lives these days the burning question for many early retirees is "what is my next best move" when it comes to planning for the next 10, 20 or 30 years and beyond. Many in this set have parents for whom they are trying to navigate these same issues. For those with parents currently living in a senior community, be it in an Independent Living or an assisted living situation, the issue becomes even more complex. "One of our chief initiatives during the Covid pandemic has been to reunite families" says Fleming. "Connection to family is extremely important to the mental as well as the physical well-being of our parents. During this pandemic everyone aged 25 to 95 has found out that isolation is not a good thing." Isolation is especially "not good" for seniors. Regular social interaction is a key contributor to a general feeling of well-being and the good mental and physical health that results from that. "The importance of social connectedness has really come to the forefront with the pandemic." Says Fleming.
So, just what is going on these days at places like Well•Spring, Springmoor, Searstone and other Life-Plan communities? As this issue goes to press, North Carolina remains in Stage 2 of the Reopening Plan and many retirement communities have limited-visitation or no-visitation policies in place. That doesn't mean communities are closed to the public for tours. Most communities will schedule private tours although, for some communities, you must already be on their waiting list. The Department of Health and Human Services (DHHS) controls policy for the State's Life Plan and Independent Living communities, however, their oversite is more "healthcare-centric" so it's up to each individual community to design specific policy for their community. Most all communities have devised virtual tour opportunities that allow a good look at life inside the community. These vary by community but some of these virtual tours are quite elaborate and offer an immersive look at everything from the homes and apartments to the dining room and other amenities…all from the comfort of your easy chair. When Gov. Cooper further relaxes restrictions with Phase 3 of the Reopening Plan then most retirement communities will relax their tour policy as well. Fleming cites his Well•Spring Retirement Community as an example. They have designed a standard tour that they will implement with Stage 3 that will allow the public to tour the community yet maintain a safe environment for all. For higher care options, like Assisted Living, tighter controls will likely remain into Phase 3, however, on a positive note, Fleming believes that as anti-body testing evolves these communities will be able to return to much more standard operating procedures.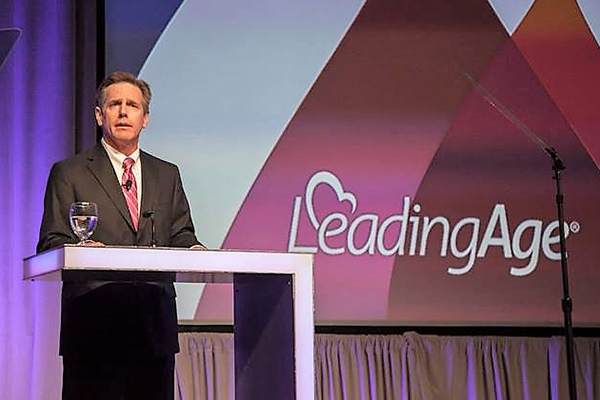 What is life like inside of these communities during the pandemic?
As Fleming notes "95 % of us want to remain in our own homes as we get older …but things have changed." Regarding life at Well•Spring Retirement Community, "I would want to be no other place" is a refrain Fleming has heard repeatedly from his residents over the past few months. He attributes this reaction to the emotional security residents feel in addition to the physical security they experience at a Life-Plan community. According to Fleming, individuals who chose the lifestyle of a Life-Plan community expect and demand a high level of independence so such communities walk a fine line between providing a safe environment and preserving complete independence for the residents. The reality is that the Life-Plan structure puts in place the safe-guards that keep the community and its residents safe and change their operational procedures to provide the many services that serve to provide for their residents in new and unique ways to limit potential exposure. Fleming again cites Well•Spring as an example; "we initiated a grocery-buying service at Well•Spring and other communities have implemented similar services to serve their residents. Another is the in-house food service which converted to a take-out/delivery service when the dining rooms were closed by State mandate. Additionally, virtually all communities conduct screening of visitors and some communities like Well•Spring go a step further and provide a number of checks and balances that include logging the movements of staff members, providing some structure to the environment and providing extra services, such as the grocery buying service, all of which translates into a feeling of security for residents that realize the world right now is a very chaotic place."
One of the big advantages to living in a Life-Plan community is that while life within these communities largely is a reflection of life across America (and around the world) and the same risks exist within the community as without there is a palpable feeling of security and sense of safety among the residents.
"Older adults, like younger adults, need two things to thrive: social interaction and proper nutrition," according to Fleming. For older adults especially, the two are closely linked. "That, I think, is one of the key advantages to life in a Life-Plan or Independent Living community… both elements are at the core of our mission."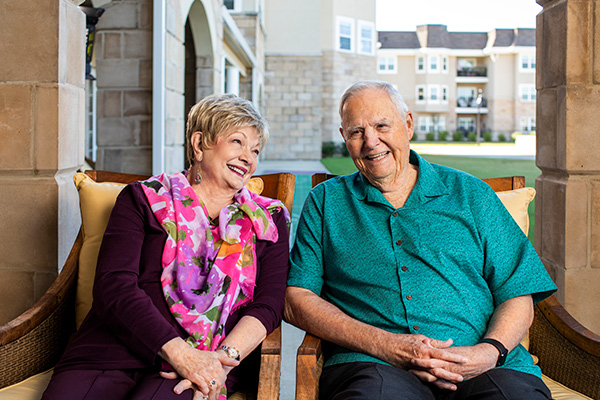 Searstone Couple
Since the state-wide restrictions went into place in mid-March social interaction at many communities has simply adapted to the new reality. Searstone is one of the newer and decidedly fabulous Life-Plan communities in the Triangle and their residents have reacted to the changes largely the same as Well•Spring's residents. According to Searstone Executive Director Derrick Moore, "residents who have typically been busy with clubs, committees, activities around wellness and dining are now participating in Zoom calls and taking lots of walks around Lake Searstone. We've been hosting groups of 10 for small exercise classes and we've been pleasantly surprised how many residents are using Zoom for daily exercise classes if they aren't comfortable in a group of 10. We're hosting weekly Zoom Happy Hours, travelogues and medical expert advice talks" keeping the residents engaged and active.
What is Moore's advice to retirees looking at options for themselves or their parents? "It's completely understandable to take a pause and consider all options during a pandemic. Residents at Searstone have told me they still feel they are living in a community that makes them feel safe and secure. You could certainly argue that living in a CCRC during a pandemic is actually preferable to living at home on your own. Those living on their own without support may be feeling more fearful and isolated."
What does the future hold? According to Moore, "I think most of the anxiety from COVID-19 comes from all of the questions we don't have answers to yet, as we continue to receive the answers from research, I think the anxiety will subside. I do see some aspects staying around longer- like masks, more frequent hand washing and less handshakes."
The quote "And this too shall pass" never seemed more appropriate than with all the life changes required by Covid-19 but it is important to realize that the restrictions of today will ease. In the meantime, we are fortunate to have professionals in the retirement industry here in North Carolina that take the safety of not only their employees and residents very, very seriously but also that of the general public who wants to explore a senior community for themselves or their parents. Great care and many hours are spent each day by these individuals and communities to make sure that "life goes on" and that senior communities are the safest and healthiest of places to enjoy life.
---
Steve Fleming
Steve Fleming is currently president and CEO of The Well-Spring Group and his degrees from UNC-CH, ASU and Harvard helped prepare him for his numerous roles in the senior industry. He is an active member of numerous aging services and healthcare focused organizations including NC Board of Examiners for Nursing Home Administrators and he serves in advisory capacities to Appalachian State University and UNC-Greensboro in their health science and nursing programs. Additionally, Fleming is the immediate past chair of the national LeadingAge organization which advocates for the interests of the senior community.