In Memoriam
Gertrude Walton Atkins (Trudy), 93, owner of Southern Trade Publications Company and founder of this publication, Retirement Resource Guide, passed away on March 15, 2019 following several months of declining health. A memorial service was held the following Thursday at her church, West Market Street United Methodist Church.
In 1989 she came to work for the family publishing business with her husband, Emmet Day Atkins Jr, who had been joined in the business by his son Emmet Day Atkins III a few years earlier. Trudy produced and oversaw all the editorial content for the company's regional trade magazine as well as the housing and furniture guides. In 2010, Trudy helped spearhead the launch of Retirement Resource Guide in the Triad with subsequent expansion into the Triangle market. Publishing the Retirement Resource Guide became a passion for Trudy as it dovetailed with her interest in helping and promoting seniors in our state. Trudy was involved as an advocate for the State AARP and served on numerous boards including the Library Board, the Board of the Shepherd Center, and the Board for the Council on Aging.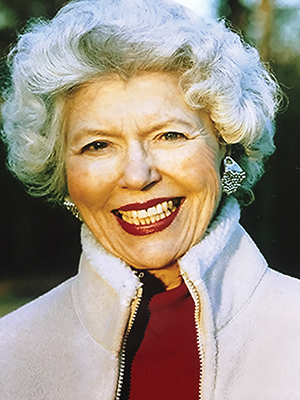 Trudy Atkins,
Owner of Southern Trade Publications
Founder of "Retirement Resource Guide"
A native of Rowan County, Trudy got her first reporting job working for the Salisbury Post while still in High School and continued to work for the Post while attending Catawba College. She worked for the Southern Pines Pilot in the summers while attending UNC-CH and after graduating from Carolina, worked for Associated Press and the US Information Service in London and Munich and Stuttgart followed by a stint in Casablanca. In the fall of '52 she returned home to travel as part of the national press corps riding the campaign train throughout New England with Adlai Stevenson as he ran for the presidency. She later returned to college to earn her MFA from UNC-G and remained at UNC-G for the next 18 years editing the Alumni News. She left UNC-G to work for Dr. William Friday, president of the UNC System and remained in Dr. Friday's office until his retirement in 1986 upon which she returned to Greensboro and the family business.
Trudy kept a packed work and social schedule until May of last year when her health forced her to reign in her schedule. She was passionate for causes to help those less fortunate and she was involved in and chaired numerous projects including with Sister Cities International and the Guilford County School System's launch of the first International Arts Festival. She was active in her Sunday School Class and an avid and graceful ballroom dancer.
Trudy's drive, energy and enthusiasm will be missed.
Articles in this issue:
Cover Story
Active Adult Lifestyle Communities
Overture: Treat Yourself to Luxury
Greystar Celebrates Topping Off of Overture Centennial
Retirement Communities
Arbor Acres: A Generous and Giving Spirit
Planning for the Future
Five Tips to Get Your Legal Affairs in Order
Hope – What Does it Mean to You?
Summer Fun and Financial Preparedness
A Financial Plan Can Help Achieve Your Bucket List
Service Providers
Fitness & Wellness
The Key to Maintaining Your Mind, Body, Independence?  Exercise
5 Things to Consider for Diabetes
What Do Peptides Do for Our Skin?
Arts, Leisure & Travel
Healthcare
What Are Activities of Daily Living
Making the Choice:  In-Home Care or Nursing Home?
News & Information
Consumers at Risk from Robocall Scams